Official Wealth Management Partner
In April 2021 we announced an exciting extension of our partnership with SCCC. A five year contract which will give JM Finn the exclusive naming rights to the JM Finn Stand. The stand represents an opportunity to cement our long standing partnership, demonstrate our loyalty and become a bigger part of the Surrey family.
To stay involved and show your support for cricket please share the hashtag #strongpartnerships
Meaningful Moments with Surrey CCC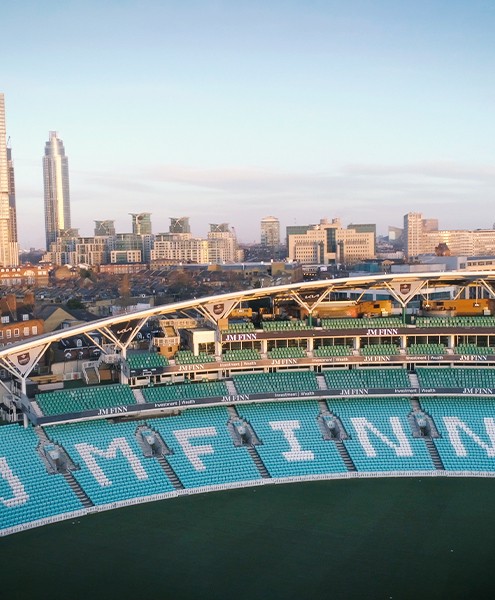 Watch our video featuring Alec Stewart and others talking about the long term nature of JM Finn's relationship with Surrey CCC and why a strong partnerships is key to long term success.
An icon of the London skyline
Built in 2005
The stand seats 14,796 cricket fans
Holds 60% of all the seats in the ground
Originally designed by Populus Architects
The most sixes have been caught in the JM Finn stand
The living wall on the building is the largest in the UK
A multi-functional conference facility
No better view in world cricket
Alec Stewart, Director of Cricket, Surrey CCC
Alec explains why he thinks the JM Finn stand is already iconic and provides insight into what he's expecting from the upcoming season.
Oliver Tregoning, Heading of Marketing, JM Finn
Taking up the naming rights of this iconic stand demonstrates our loyalty and cements our place in the Surrey family.
Gareth Batty, former Surrey captain
Gareth discusses the importance of partnerships as a cricket spinner and his most memorable cricketing collaborations.

Vikram Solanki, England cricket coach
Vikram looks back at his playing days and recalls his most memorable partnerships.
Amar Virdi, English cricketer
Amar tells how partnerships work for famous cricketers and what his most standout partnership at the wicket has been.

Ollie Pope, England cricketer
Ollie talks through the partnership of younger and more seasoned players and how learnings can be passed on.
Ryan Patel, English cricketer
Ryan outlines what his partnership with Surrey entails and also deep dives into his journey into professional cricket.

Charlie Hodgson, Managing Director of the Oval
Charlie talks about the impact of English cricket on the club and the importance of corporate partnerships.
Start investing for your future
Our comprehensive wealth management capabilities enable us to help clients at any stage of life, whether you are just starting out as an investor or thinking about retirement, or looking to maximise your legacy for the next generation.
Speak to our experts
If you have any questions around wealth and estate planning for your future then why not give us a call?
Telephone:020 7600 1660
Send us a message
Submit a callback request below and one of our experts will contact you as soon as possible.