In my thirty odd years at JM Finn & Co, I've always been proud to have worked alongside some exceptional colleagues and having to report the untimely death of one saddens me enormously. Sadly it falls to me to report to our readers that our regular contributor to Prospects and Head of Research, Geordie Kidston died at his home in London in April at the age of 52.
This publication was just one of the many ways in which Geordie made an enormous contribution to the business and he will be fondly remembered for his passionate approach to furnishing our investment managers with stock ideas and insights into the mechanics of the world's stock markets. A more detailed tribute to Geordie features on page 8.
I am also sad to announce that David Gibbon, who was head of our Cardiff office, has died following an illness. David, who featured in Prospects in the Summer 2015 edition, had been with us since 2013 following a long and distinguished investment management career of more than 30 years. Our thoughts are with his wife and three sons and colleagues from across the industry.
In the three months since our last edition of Prospects, stock markets have been particularly tricky with general economic conditions mixed. This has very much been portrayed by recent company results which have also been a mixed bag with some being better than expected and some disappointing which continues to make our jobs as Investment Managers more and more difficult.
With prolonged uncertainty, these conditions are set to continue but hopefully, once the European Referendum vote and the American election is out of the way, conditions will become a little clearer and the general economic environment should improve. In the meantime, with current conditions I think it is highly unlikely that interest rates will move.
On a positive note, JM Finn & Co has been the subject of some plaudits of late, having been awarded the "Best Discretionary Service" at the 2016 City of London Wealth Management Awards and having two Investment Directors named in a list of leading industry lights, under the age of 40, as reported on page 20.
These accolades are testament to the hard work we put in and I hope give our clients some comfort that by entrusting their assets to us, whether on a managed or advisory basis, they are in good hands. In addition, this helps in our quest to grow our business as, when seeking referrals, which is how we have traditionally grown, a third party endorsement can be very beneficial.
I hope the various subjects up for discussion in this issue of Prospects continue to interest our readers. Subjects ranging from the benefits our capital city have received from immigration, to the current situation in China, to a brief look into the life of one of the UK's most influential landscape gardeners on the 300th anniversary of his birth underscore the varied content that we try to achieve.
James Edgedale
Chairman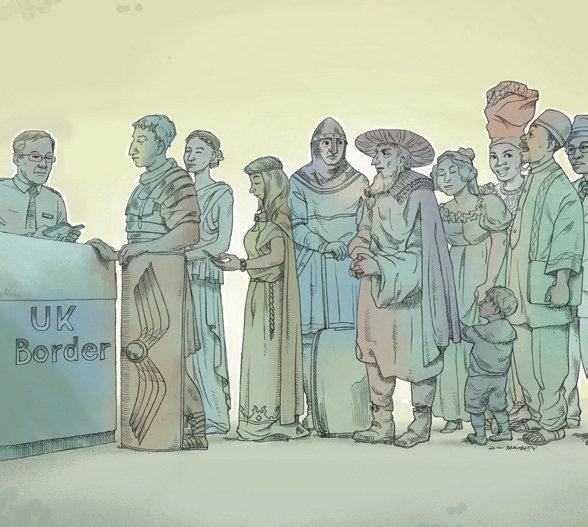 EDITOR
Oliver Tregoning
oliver.tregoning@jmfinn.com
Published by JM Finn & Co on 11th March 2016
Image credits: Shutterstock images
COVER ILLUSTRATION
Jon Berkeley/Debut Art
Jon Berkeley is a renowned illustrator who regularly contributes to publications such as The Economist.