My good friend Jamie Vaughan and I started Novalux Energy with the intention of helping businesses switch to more efficient technology and make  financial savings. We planned to help companies secure the funding to pay for the upgrades, whilst taking a cut of the savings. What we didn't anticipate was that the business owners were prepared to make the investment themselves, essentially making us a middle man.
We wanted our business to be more involved in the energy industry, so when a customer asked for us to install Solar Photovoltaics (PV) we saw it as an opportunity. Despite working a minimum wage weekend job and running Novalux in the week, we rushed to gain the necessary accreditations so we could install it ourselves.
Stay agile, take a step back sometimes in order to see the bigger picture.
One of the challenges of working in the renewables industry is that for the most part it is not a free market. The economic motivation for installing the technology is often underpinned by incentives. Various tariffs have been available over the years, such as the Feed-in-Tari  (FiT) and Renewable Heat Incentive (RHI). These schemes work to incentivise the uptake of renewable energy by giving those who invest payments for twenty years thereafter.
This provides a good selling point and in theory makes the switch to carbon neutral technology easier. However, as it's driven by Government policy, cuts to the scheme can be announced at short notice, making it difficult to plan business growth.
Unfortunately, the day after I gained my accreditation to install solar, I found out that the tariffs had been retrospectively reduced, taking the market with it overnight. It was frustrating to say the least. Running our business has meant having to constantly persevere. Had I known that the pipeline we had worked hard to line up would disappear, I may well have given up. Thankfully we didn't, the High Court overturned the decision and we were able to install our  first solar system.
Gaining that first contract and completing the job without assistance gave us the optimism to continue. Whatever stage we got to, we kept looking for opportunities, and when a local energy business folded we were lucky enough to hire some of their staff .
Value your team and celebrate the small wins.
Despite the many difficulties we've come up against over the years we have managed to diversify our services, which has helped us to outlast many of our competitors. Three years ago, we made the decision to raise money to build our own 2.5MW combined heat and power plant. Up to that point we had grown Novalux organically, but because of our experience in installing the technology we had the confidence to invest in our own plant. We now provide renewable heat and power to an industrial site in South Wales. By showing our customers that we believe in the product enough to install it ourselves, we have been able to install the largest  fleet of distributed Organic Rankine Cycle (ORC) and waste wood power plants in the UK.
What I've learnt is to stay agile, take a step back sometimes in order see the bigger picture, value your team and celebrate the small wins.
Although we've been running for nine years, we have kept our start up mentality and we are still always looking for the next thing – which now means building a network of our own distributed power plants.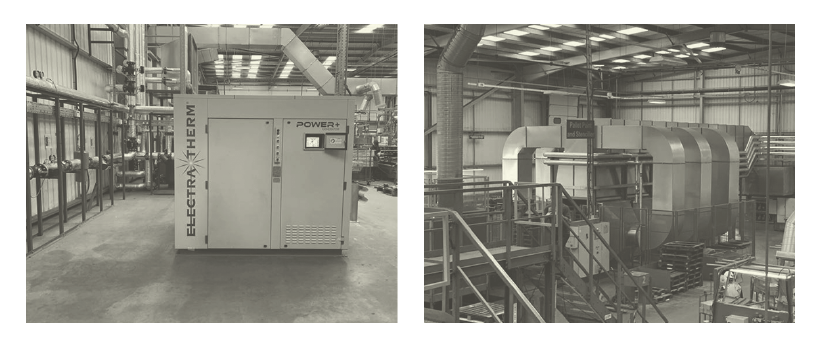 ---
Novalux Energy Solutions Ltd
We know engineering having worked with many technologies over the years and that's how we know which renewables are right for your business. Novalux Energy install, own and operate combined heat and power plants (CHP) and Solar PV systems which provide low cost, renewable, distributed heat and power to businesses and industry. We provide energy solutions to business premises across the UK to help them reduce their energy consumption, and hence their overall cost of energy.
Our focus is on commercial buildings (offices, warehouses, schools etc.) where we will assess a buildings' energy consumption and look at ways to reduce this primarily through installing new, proven technologies.
A major part of our offering is that we will  nance the installation which, over a period of time, will be paid for by the savings created from the reduced energy bills. This alleviates companies from having to find the capital to fund the project. For further details visit www.novaluxenergy.com.