The weather warms up, daffodils emerge and for financial advisors their focus is on end of year tax planning ahead of the financial year end. This year is no different despite the looming culmination (possibly) to the Brexit saga. Therefore, investors and savers should be sure that they have made the most of their tax allowances ahead of 5 April, and for most people this will mean using their ISA allowance.
Any investor knows they should save into an ISA, but not all do. Even if we do, many of us will do so using cash ISAs. This is an excellent first step, but after a decade of historically low interest rates is this the most prudent way to treat your savings? A quick scan of the best cash ISA deals available at the moment have few that are in excess of 2% interest rates. Of course, with a cash ISA you get certainty that you will not lose capital. However, it is important to consider the impact of inflation. Depending on how you measure it, inflation is running at somewhere between 1.8% and 2.5%. To ISA savers this means that if your pot grew by 2% over the course of the year, so too did the cost of living. Therefore in real terms your savings have not moved, and may have effectively shrunk. These meagre returns can be further eroded if the original interest rate offered was a teaser rate, and you may discover that the interest being paid has fallen significantly below 1%.
The alternative is investing in a 'stocks and shares' ISA. Obviously investing in the stock market brings with it an added level of risk, and the value of the investments in the ISA can fall, as well as rise. But the historical data shows that if you are intending to invest money for a long enough period of time to withstand inevitable falls in the market, then the benefits of the stock market has far outweighed the returns from cash. The charts below show the change in value of £1,000 invested in UK stocks, a UK bank account or left under the mattress since 1989, after adjusting for inflation. It shows that £1,000 invested in the FTSE All-Share, with dividends reinvested, would be worth £5,683, an annual growth rate of 11.2%. Meanwhile, the UK bank account would be worth £1,011, annual growth of 0.03%. The cash under the mattress would have lost half of its purchasing power and be worth £467.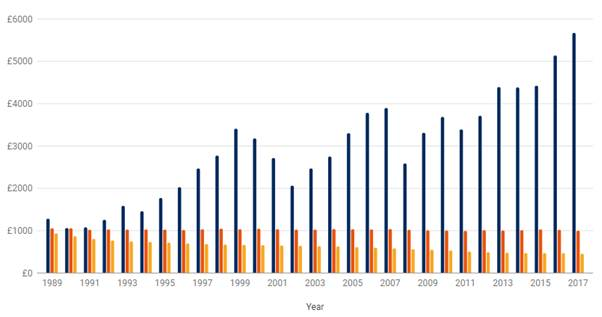 Source: Schroders

Despite this the amount of money put into cash ISAs is more than double that put into 'stocks and shares'. This perhaps reflects the impact that the Financial Crisis (and the dotcom crash) has had on people's attitudes to investing in the stock market. This is understandable as investing in the stock market is not without risks. But if one takes a sensible and considered approach, with a well-diversified portfolio and if you are able to take a long term approach that allows a recovery in the event of an economic downturn, then the stock market should not be as daunting as it appears to be. 
So as we near the end of March, it may be worthwhile to give your savings a bit of a spring clean. Check what the current rate of interest is on your cash ISAs and consider whether the stock market may be a better option in the long run.