I wonder how many of the artefacts that London has yielded were originally lost with a similar wish of benevolence to some future archaeologist. I should guess not many; from the tens of thousands of antiquities that Crossrail's burrowings and the excavators of the new and deep foundations of London's smartest skyscrapers have given us, Bloomberg's new offices on Walbrook and Liverpool Street Station have been the star performers. I gather that the workings at Farringdon Station are a close third.
Immigration has been London's bedfellow for longer than you might imagine.
Each item is history now shared with the present. Coins, bracelets, plates, lamps and, apparently, a multitude of shoes and boots from the pasts of the Romans, Saxons, Normans and all who followed are now enjoying more salubrious resting places, when compared to the muddy surround from whence they came. 
And then there are the bones; Liverpool Street Station's own architectural re-birth and the tunnels of Crossrail have carved slices through the Bedlam Cemetery from the fourteenth century and onwards. The remains of these Londoners, and indeed each piece of jewellery or pottery, is an indulgent invitation to ponder their lives; and to walk your mind's eye around the architecture of our Roman forebears, or perhaps the alleys of Shakespearian London. If you need inspiration and can spare the time, then the Museum of London, not far from our front door, can help. Did they love their families and friends as I love mine? Or, more practically, were they as worried about the national debt and the debasement of our currency as I am today?
The astonishment is that DNA analysis of these 500- year-old bones tells us that half of the skeletons were not London born and bred. Immigration has been London's bedfellow for longer than you might imagine.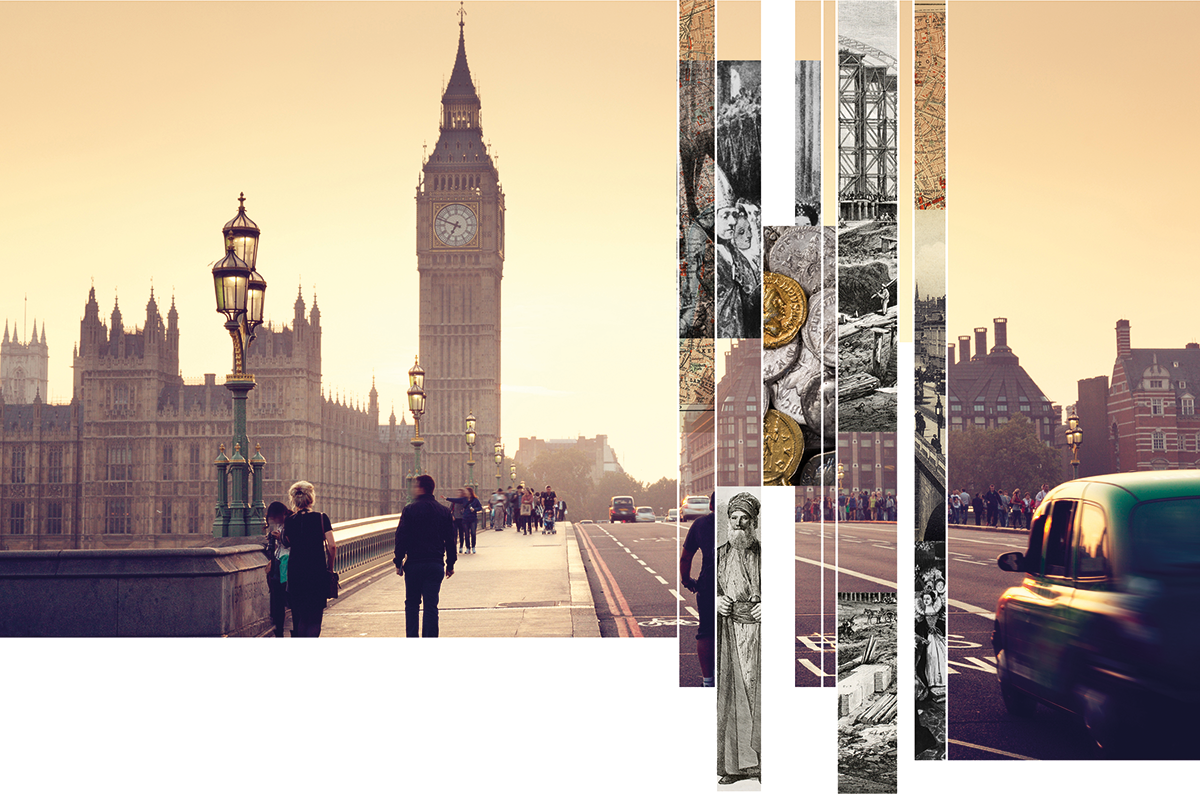 We know both the Romans and the Normans brought waves of immigrants with them. London prospered under the edicts of Rome and the Norman arches that support the lofty vaulted ceilings of many of London's cathedrals and churches bear testament to the endowment of William I and those who followed him. But more waves followed; the Flemish crossed the Channel in the fourteenth century, bringing with them industrial craftsmanship that benefited all. 
Without wishing to infringe on the bigotry that is so often labelled as contemporary political correctness, I do observe that some 400 years after their expulsion in 1290, Jewish merchants came back to London from Europe in ever increasing numbers; bringing with them their predisposition to expertise in banking, trade and finance. Think Rothschild Bank and Samuel Montagu. David Solomons founded the (now National) Westminster Bank and the Torah and Talmud laid down strict rules for commercial honesty and public-mindedness. Perhaps the eighteenth century Jewish banks, with a prescribed religious template for honourable conduct were more trusted than others?
The massacre of French Protestants on St Bartholomew's Day in Paris in 1572, and more hard-line Catholicism that followed, gave London its fleeing crowds of Huguenots; Cazenove (now JP Morgan Cazenove) was from one of their number.
Each conflict of Europe's muddled warring over the centuries that followed drove more and more to the UK. Asians and Africans soon joined the mix as we progressed through industrialisation. 
By and large these immigrants brought new, and different, skills and expertise. But more importantly, the ethnic diversity allowed a culture of foreign ownership to flourish. And that, in my mind, has been behind much of London's success. JP Morgan Chase, Goldman Sachs, Bank of America, Morgan Stanley, Citigroup, Deutsche Bank, UBS, Wells Fargo, BNP Paribas, Nomura, Lazards; all from abroad and all at home and flourishing in our international mix. Where are the English houses of finance? Even Lloyds Bank is Scottish. Is Barclays alone with an all English heritage? 
London's greatness through history has had much to do with its ability to blend the best of ethnic migration from abroad and to harness their skills and expertise for the greater good.
So where is all this taking me? The empirical evidence suggests to me that London's greatness through history has had much to do with its ability to blend the best of ethnic migration from abroad and to harness their skills and expertise for the greater good. After all, it takes a certain amount of gumption and entrepreneurialism to up your sticks and flee from where you lived. Perhaps the immigrants, by the very nature of their choice to venture forth from the known predictability of their earlier lives, are the traders, financiers and manufacturers that we want and need. Newness, freshness and value-creating competition for the local incumbents, as well as an international crowd at ease with international ownership.
I write this note with a copy date that precedes the Brexit vote, which in turn precedes the publication date. Part of the Brexit debate revolves around control of our borders. Immigration, as measured by the foreign-born has risen from 0.6% in 1850, to 1.5% by 1900, to 4.3% at 1950 and then to 13% today. So we are ahead of ourselves from an historical perspective; but even with that in mind, I tread carefully when slamming the door shut on a past enriched, sometimes by the already distinguished wealthy, but also sometimes by the once downtrodden who came knocking at our door.