The wealth management services that we offer are multi-faceted and to get a robust view of how we are doing and, more importantly, what we need to do to continue to meet our clients' needs, is essential for our ongoing success.
Building on the survey we conducted in 2015 our objectives were to measure key performance indicators including satisfaction, trust and net promoter scores to test how we are doing, in addition to an evaluation of our communication methods. We also wanted to explore clients' willingness and awareness of our wealth planning services and online capabilities and assess overall preparations for generational wealth transfer.
The survey was conducted online in March by a third party consultancy and we were delighted to receive over 2,000 responses representing a response rate of nearly 30%, which makes the data set extremely valuable.
Key performance indicators
In summary, we scored highly on all the main key performance indicators (KPIs), especially trust and satisfaction, for both individual investment managers and the firm as a whole. We were also delighted to learn that our net promoter score, a measure of our clients' willingness to promote or refer us, well surpassed industry averages. As a further proof point of this, 49% of all those surveyed say they have recommended us to their friends and family, half of whom say this was in the last 12 months.
It has been a breath of fresh air to talk to someone who understands the markets and provides very sensible independent advice. I understand the processes and thinking behind the discretionary decisions made on my behalf and feel part of the process.
When asked what it was that clients are particularly satisfied with, the overarching statement was the personal service we offer. This is particularly satisfying as this remains our point of differentiation versus much of our competition, as they increasingly put the investment management decision making at arm's length to the main point of contact; something we firmly believe will compromise the service we offer.
Staying with the KPIs, we were delighted to learn that we continue to improve on the service we provide to our clients, with all KPIs improved on the scores obtained in 2015. We also noted a 95% satisfaction rating of the proactivity of our investment managers and 92% satisfaction of investment performance, with nearly two thirds suggesting they were extremely satisfied.
There are an abundance of research reports that suggest that the industry does not serve female clients very well. It was most pleasing for us to see from our survey results that, despite having no differences between the service levels, our female clients scored us higher on all the KPIs. Again, we believe this is thanks to the focus on building relationships which in turn allows us to be responsive and reactive to individual needs.
Services
When exploring the awareness of the additional services we offer, the numbers were lower than we had expected. With only 25% of respondents aware of our ability to offer retirement planning services and only 20% aware of our inheritance tax portfolio service.
A very friendly and open relationship with regular communications and updates.
Of course many don't need these services but with the challenges of changing demographics and wealth transfer these are services that we have built to complement our investment proposition and that we feel could be of value to clients looking to plan for their own and their children or grandchildren's futures.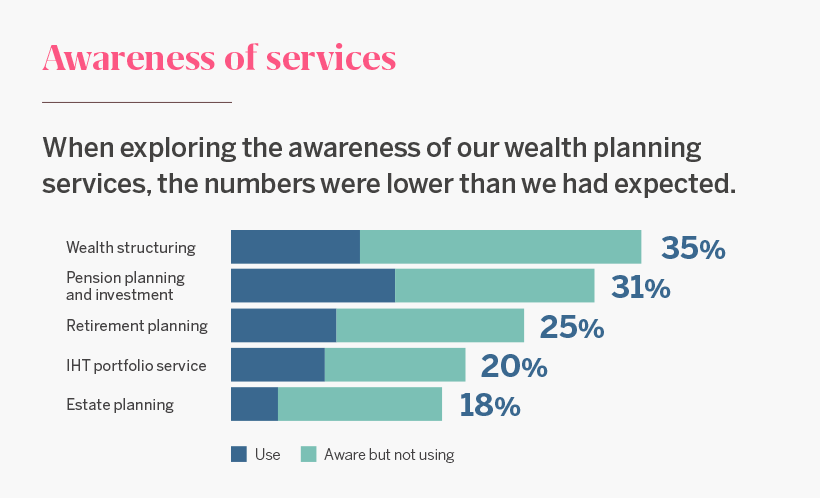 Communication
There was a range of preferences for the frequency of meetings with an investment manager, with the majority wanting a meeting once a year and nearly 20% more often than that. Over half prefer these meetings to take place at one of our offices.
I feel confident that my money is well looked after. Most importantly I know the people I speak to and trust them.
In terms of the satisfaction of the meeting frequency, face to face meeting frequency met with a 92% satisfaction level and telephone and email contact had a 96% satisfaction rating. This suggests our focus on client communication and the flexibility we can provide is hitting the mark.
For the formal client reporting we were delighted that 98% said the information provided is clear and easy to understand, whilst there was a high level of satisfaction with the personalised annual portfolio review letter. We were also delighted to learn that 91% of respondents felt that Prospects was relevant and interesting.
Digital
Providing a suitable and easy-to-use client portal has been a focus of ours for some years, having been one of the first providers to offer one nearly 20 years ago.
Genuine personal service is rare these days. Keep up the good work!
In addition to providing a personal library to store account paperwork online, we believe we can help protect confidential data better via a portal, rather than relying on email which is deemed to be easier to compromise. That said, over 80% of our clients said they were aware of our portal but less than half use it. Of those that do use it, over three-quarters were satisfied with it. The app received the same satisfaction rating but usage was much lower with only 11% actively using it, despite access being much easier if you have a smartphone that can take advantage of finger print or facial recognition.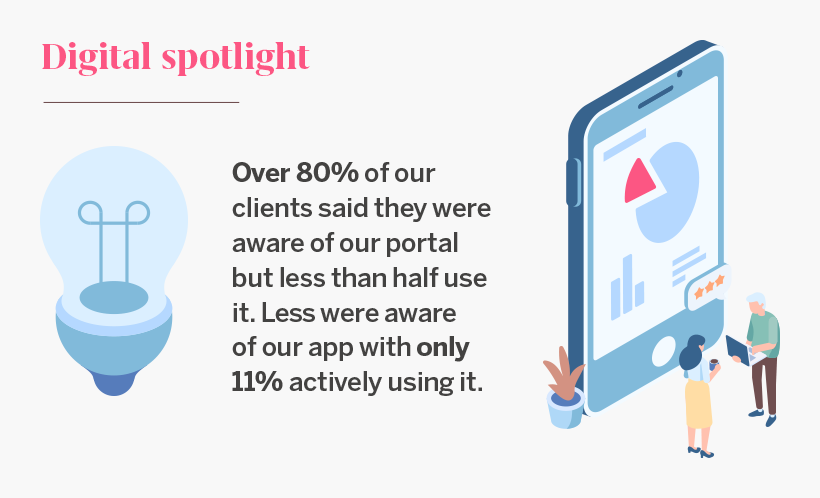 Next generation
The final area explored was the preparedness of our clients for transferring their wealth to the next generation. The vast majority of our clients feel prepared, although only half have discussed their plans with their inheritors, which may explain why a quarter of respondents suggested they would be interested in attending a wealth transfer seminar or event to learn more.
Personal communication and online services are vastly superior to offerings from much larger firms.
Finally, we explored the appetite for investing with consideration for environmental, social and governance factors alongside financial factors in the decision making process and determined that nearly two thirds may be interested in understanding what this may look like and a third suggesting their children would be particularly interested.
To conclude, we were delighted with the responses which continue to verify that we are servicing our clients to the best of our abilities. This additionally gives us comfort that the way we do things meets with our clients' approval.
Thanks again to those who took part in providing this valuable information. We did ask all respondents at the end whether they'd be willing to do another survey within 12 months, purely to test the appetite for such things and the vast majority suggested they would be willing.
As ever we actively encourage feedback and would be delighted to hear any suggestions for improvements or additions to the services we offer and we hope that these results will give our clients comfort that their wealth is in good hands.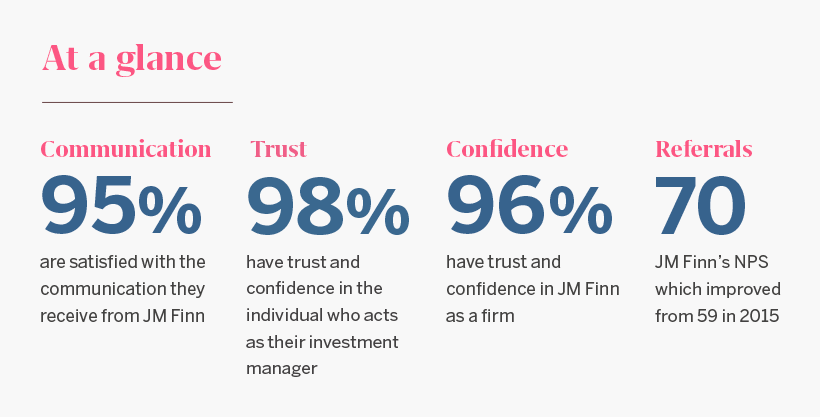 Research objectives
Measure key performance indicators including satisfaction, trust and NPS, and compare to 2015 scores
Evaluate communication satisfaction
Measure awareness and usage of JM Finn digital offering
Understand the extent of clients' wealth planning needs and awareness of JM Finn's services